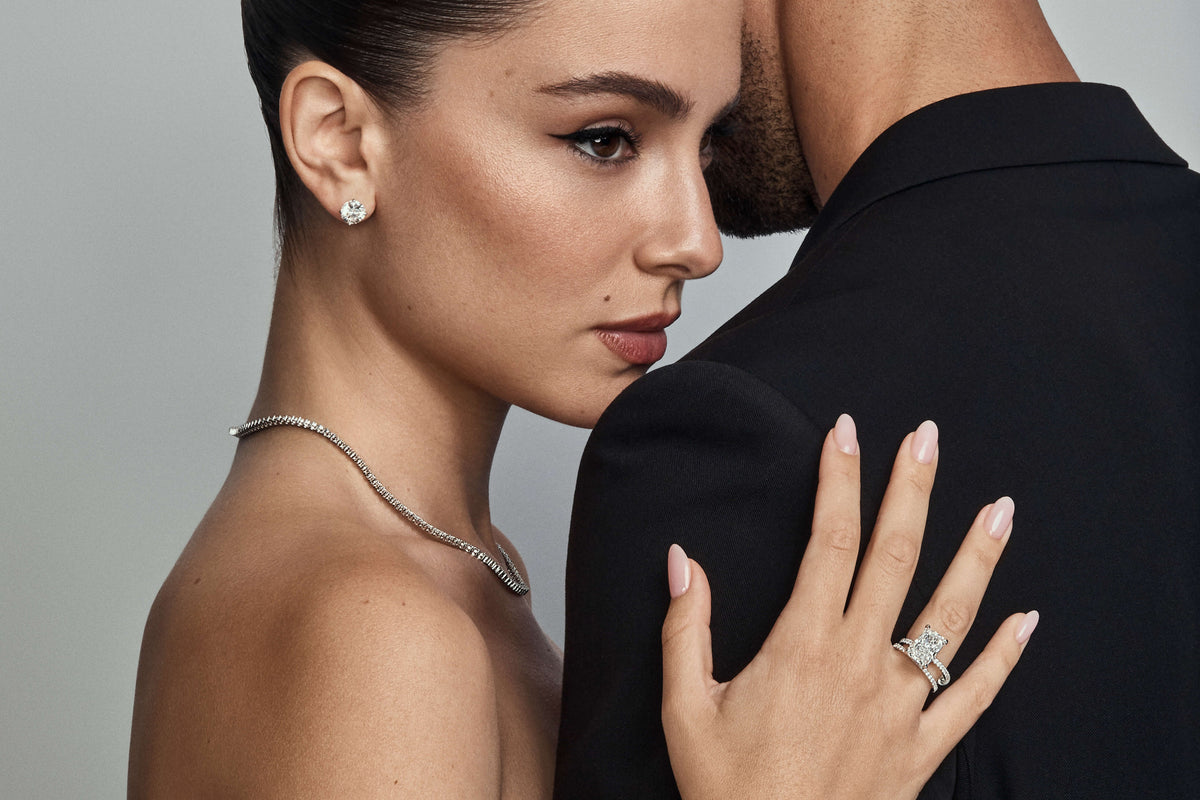 Asscher Cut Diamond Engagement ring
This stunning diamond shape is a kissing cousin to the sophisticated emerald cut diamond. It has many of those straight step-cut facets which are chic in their simplicity. The more squarish clipped corner shape of the Asscher cut diamond lends a connoisseur's vibe to the stone.
Filters
4 products
2.0 Carat
·
Asscher
·
Halo
·
Sale price

$4,570
Sale Price: $3,428
Price includes main diamond
2.0 Carat
·
Asscher
·
Halo
·
Sale price

$12,300
Sale Price: $9,225
Price includes main diamond
2.0 Carat
·
Asscher
·
Halo
·
Sale price

$3,500
Sale Price: $2,625
Price includes main diamond
2.0 Carat
·
Asscher
·
Halo
·
Sale price

$11,860
Sale Price: $8,895
Price includes main diamond
Asscher Cut Diamond Engagement rings
Indeed, some of the costliest diamonds in the world have been cut in this century old facet style. Named for its inventors, Holland's Asscher Brothers in 1902, this diamond cut is favored by royalty. Timeless and always stylish, the Asscher shape is a collector's dream.
There could not be a diamond shape more closely associated to the legacy of diamond cutting than the pristine Asscher shape diamond engagement ring. The straight edges of its facets draw in the viewer to inspect the quality of the stone shaped into an Asscher cut. No wonder aristocratic jewelry has so often been set with Asscher diamonds. With its rich pedigree, those owning an Asscher cut diamond know they're holding a piece of history. Some iconic shapes transcend time, and the Asscher cut diamond is one such stone. While you can find early Asscher cut stones still placed in vintage jewelry, it's also the stone for our times.
The name Asscher may not immediately bring a stone shape to mind—but it's a family name in the diamond world that means a lot. The Asschers are a generation's old prominent diamond cutting family from Europe going back centuries. The Asscher cut might be considered a kissing cousin of the emerald cut. It has those parallel step cut facets, making it a chic diamond option. Whereas the emerald cut is a rectangular shape, the Asscher shape with its broad clipped corners is much more squarish in appearance.
These step cuts do in fact make the viewer feel like they are looking into a hall of mirrors that keep reflecting light back to the eye. There's a bit of variance possible with Asscher cuts, some appear completely square while others have a slightly longer side. Either way, the proportions are attractive and sophisticated. We know you want your ring to be unique from everyone else. It's part of your exclusive love story and you should have a memorable engagement ring like no one else has.
So, try the appealing Asscher cut. We'll bet you don't know anyone else with that shape of diamond (or any other stone for that matter!) It just might be the one for you.