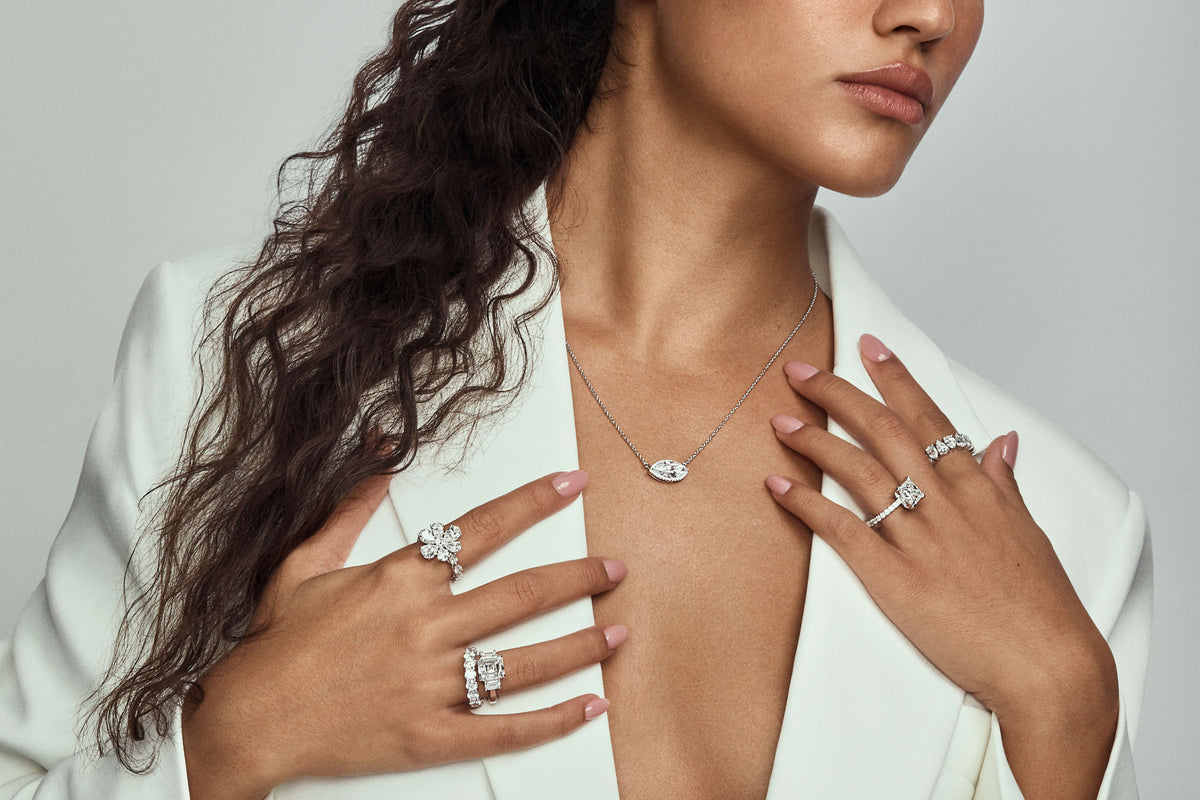 Double Halo Moissanite Rings
Turn up the sparkle with a double halo Moissanite ring. The shimmering stones dazzle everyone, not the least of which its owner.
Filters
3 products
2.2 Carat
·
Pear
·
Double Halo
·
Sale price

$2,350
Sale Price: $1,763
Price includes main diamond
4.0 Carat
·
Round
·
Double Halo
·
Sale price

$2,890
Sale Price: $2,168
Price includes main diamond
3.15 Carat
·
Oval
·
Double Halo
·
Sale price

$2,710
Sale Price: $2,033
Price includes main diamond
Double Halo Moissanite Ring
With a double halo Moissanite engagement ring, you know you've got a ring no one has, and you've got the confidence to wear it beautifully. A Moissanite gemstone is one of most exciting colorless gemstones as an alternative to diamond. It's marvelously created in a lab to be all you could ever long for in an engagement ring stone. It's got the beauty, durability, and high quality to make you marvel at all day long. This created stone is a scene stealer, which its super sparkly dispersion and glamourous looks. You'll be so pleased you discovered Moissanite with its exceptional beauty. For all its celebrity looks, you'll be amazed at its affordability.
The wildly popular double halo setting is a bride's dream come true. You are so happy with your unique love story, and you want the world to know. Tell everyone about your romance without ever uttering a word. Your double halo Moissanite Ring is distinctive and elegant in a timeless way. The single halo is a classic style that is both feminine and eternally romantic.
The halo frames a lovely center stone, bringing additional focus to it, while making it appear larger. A double halo delivers twice the dose of focus with an added ribbon of Moissanite side stones to ramp up the luxe. This style makes every center stone and every double halo Moissanite ring look like a red carpet worthy. You sure don't want to bypass this sumptuous ring with so much to offer.