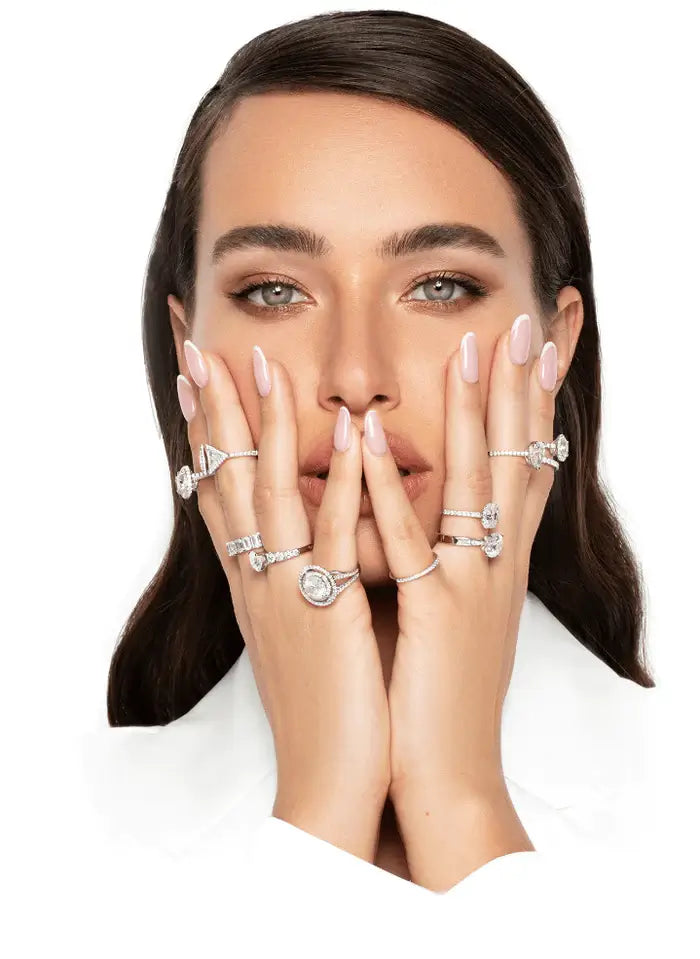 Look into lab grown diamond
One of the most exciting diamond products to hit the market today are lab diamonds. But how do the words lab grown and diamond fit together?
Earth grown diamonds have their own story—and it's fascinating. Made of a single element—carbon—natural diamonds transformed over billions of years deep inside the earth under conditions of high temperatures, and extreme pressure. The result is one of nature's most spectacular miracles—sparkling diamonds. They hold us spellbound even today.

Innovative scientists have successfully created diamonds in the laboratory using the same natural model as earth-mined stones. Under conditions of extreme pressure and high heat, a miniscule diamond 'seed' is encapsulated in a laboratory containment—and a diamond is produced. It just didn't take billions of years to spring to life.
Shop Lab Grown Diamonds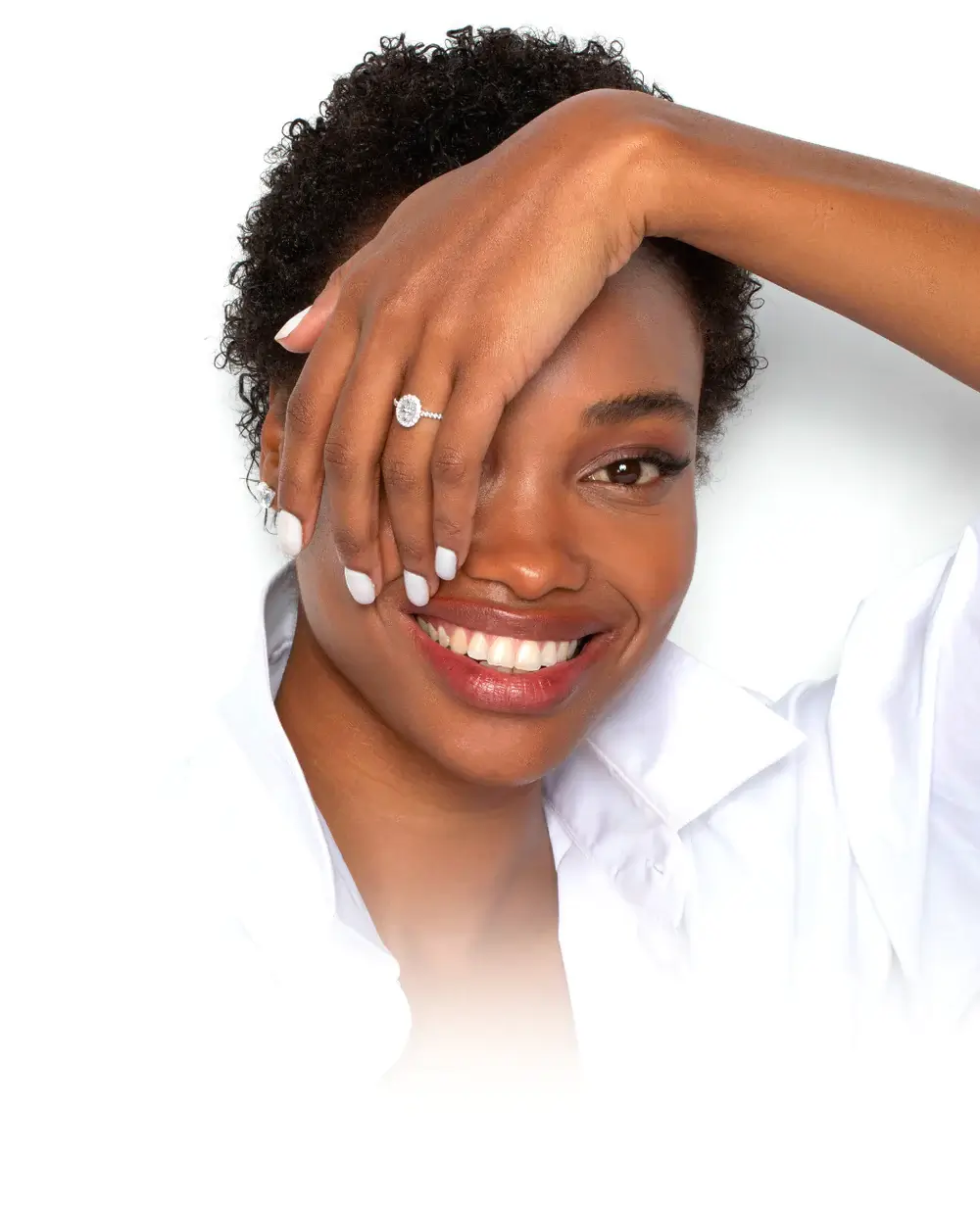 Fascinating lab diamonds for today's shopper
Lab Created diamonds have the same chemical, physical, and optical traits as a diamond from the earth. What many shoppers love about lab grown diamonds is that they are 100% conflict free and ecologically sound. Perhaps best of all, they have all the beauty of a natural diamond, for a much more affordable price. This is a win-win solution for smart shoppers.

Love diamonds but looking for an affordable option that doesn't sacrifice beauty and durability? You've found the right place to shop for the best lab diamonds anywhere!
A lab grown diamond might be the smartest choice for you.
So much to offer
If you admire the brilliant colorless diamonds that are breathtaking—yet you want value for your money, lab-grown diamonds may be your top choice. Yes, they are real diamonds—just not earth mined stones. They grew in a controlled lab environment, with spectacular results.
Do you love technology and appreciate the no-conflict solution that lab grown diamonds offer?
Lab Grown diamonds
Browse through our elegant collection of lab-grown diamonds now and find the ring of your dreams, just waiting for you at Best Brilliance.
View All
2.25 Carat
·
Cushion
·
Halo
·
Sale price

$4,740
Sale Price: $3,555
Price includes main diamond
2.0 Carat
·
Round
·
Side Stones
·
Sale price

$3,770
Sale Price: $2,828
Price includes main diamond
1.2 Carat
·
Round
·
Side Stones
·
Sale price

$2,450
Sale Price: $1,838
Price includes main diamond
2.5 Carat
·
Round
·
Halo
·
Sale price

$4,940
Sale Price: $3,705
Price includes main diamond
Your Personal Online Jeweler
Schedule an appointment
The NEW way to Buy an Engagement ring.
Book a zoom consultation with our personal Stones expert
Comparing Lab Diamonds to Natural Diamonds
When you first look at a laboratory grown diamond, you see a spectacularly clean, clear gemstone with extraordinary sparkle. But why exactly is that? Lab grown diamonds were skillfully created with the exact same chemical, physical, and optical properties as an earth mined diamond. But in this controlled environment, scientists can also create high clarity and high color stones. So, you'll likely see much higher quality stones when you're looking at lab created diamonds.

Only trained professionals will be able to detect different miniscule elements in a lab diamond as contrasted to a natural diamond. Reputable gem labs have the equipment to make the separation between earth mined diamonds and a lab grown diamond. A trustworthy retailer will also provide documentation verifying that a stone is a lab made diamond.
Are Simulants the same as lab diamonds?
Now that we understand what a synthetic or lab grown diamond is, let's turn our attention to understanding what a diamond simulant is. The word simulant is a catch-all word for any stone made to look like a diamond. Contrary to synthetic or lab-grown diamonds, simulants do not have the same critical characteristics such as the optical, physical, and chemical make-up of created diamonds.
In other words, while they may look like a clear sparkly stone simulating a diamond, they can be made from any kind of material such as glass or cubic zirconia (called CZ). Once you've become familiar with lab created diamonds, or even Moissanite, you'll be able to tell the difference between the simulants with a visual inspection.
Creating the Ideal Lab-Grown Diamond
Most consumers would love to get the highest quality diamond for their budget. But when they check prices, they will often find that selection high quality means getting a very small stone. But with a lab grown diamond, you can select a larger size stone with superior color and clarity, all for much less than its natural counterpart.

Creating this near perfect stone is all part of the process involved in making a beautiful lab grown diamond. Using high pressure and high temperatures in a laboratory environment, skilled scientists can faithfully recreate the exact conditions needed to produce stunning lab created diamonds. While it took the earth several billions of years to produce diamonds under the earth, lab diamonds can be grown in a matter of weeks under careful conditions. The result is the quality you want, plus the clarity and colors you demand. All at affordable prices.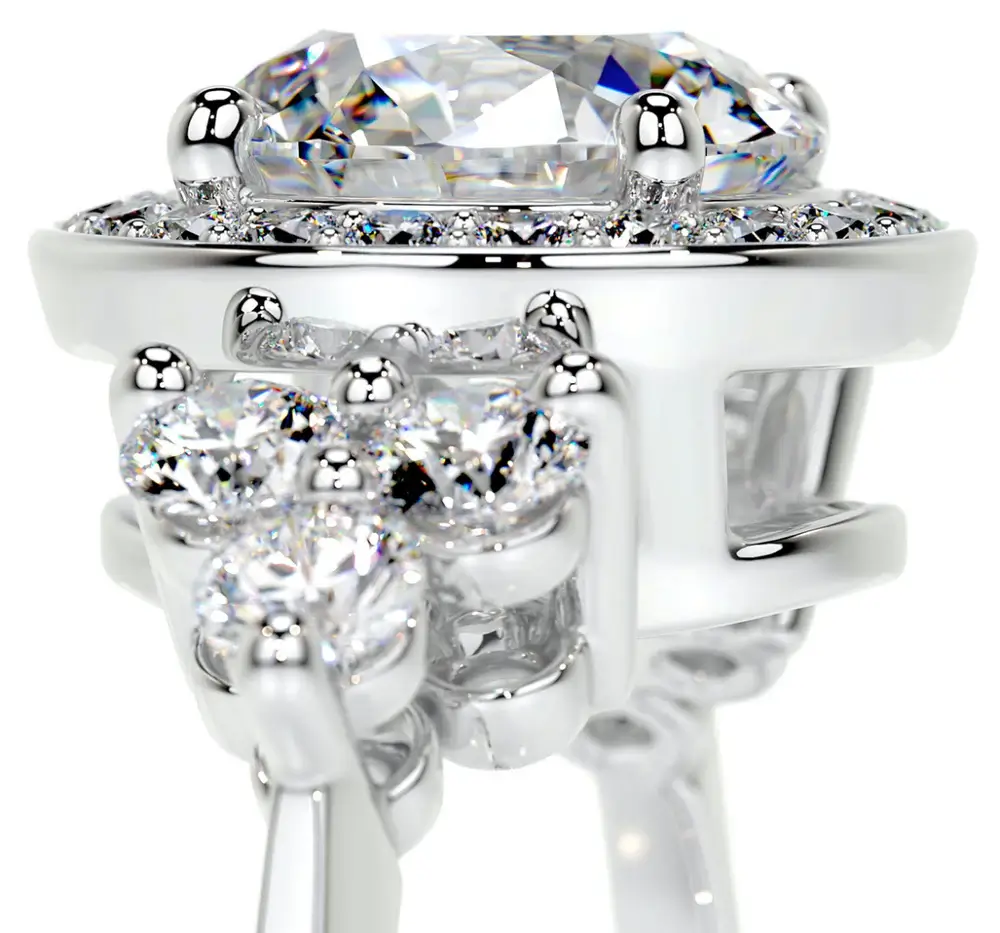 Lab created diamonds - Buy smart and the best
Lab grown diamonds are not all created equal, did you know that? They are manufactured and sold in various quality grades. So, before you buy, look over this short-list of must haves for your lab diamond.

At Best Brilliance, our diamonds are our reputation---only top-quality, hand selected lab diamonds that are expertly cut. You won't find even tiny chipped stones in our inventory—we care about the smallest details. Lesser grade lab diamonds lack that WOW factor—they don't have much sparkle.

But you'll notice the difference in our lab made diamonds. We carry only first-rate stones, mounted in the latest designer styles—these are the ones you want.

The competition may sell off-color (brownish) stones that are inferior, often set 10K gold or silver. We use 14K gold and higher—it's what you deserve in fine jewelry.
Can lab diamonds be called real diamonds?

Lab grown diamonds are indeed real diamonds; the only difference in them versus earth mined diamonds is the manor in which they were produced. Laboratory diamonds are identical to earth mined diamonds in their optical, physical, and chemical makeup.
Can they ever lose their clarity?

No, your lab grown diamond will always look as clear and sparkly as when you first saw it. One of the benefits of them are their gorgeous clarity and color.
If a lab grown diamond is sent to a gem lab, will it test like a natural diamond?

No, today, the top grading laboratories can detect the difference between lab grown diamonds, natural diamonds and moissanite, plus other diamond-looking stones.
Can lab created diamonds fluoresce under UV lighting like some diamonds do?

Your lab diamond will never show fluorescence. Some natural diamonds do exhibit fluorescence under UV lighting—and that is one way that labs use to identify a specific stone. But lab made diamonds do not display this trait.
If I buy a high clarity, high color lab diamond, will I spend the same amount as if it were a natural diamond?

Fortunately, lab grown diamonds, which come in a variety of clarity and color grades, are more often of high color and clarity. So, you can actually purchase very high-quality lab created diamonds for much less than their natural counterpart.
Could I insure my lab diamond jewelry the same way as I do my diamond jewelry?

Yes, your home-owners policy may have a rider attached to it to cover all your fine jewelry and that includes your lab made items. You'll want to have documents from your purchase stating all the details of your lab made diamond items including the price. It's always a good idea to have your jewelry appraised, and have that document included in your insurance policy too.
Is there a way to tell the difference between my lab diamond and a Moissanite stone?

With some training, and a good eye, you could be able to see the doubled facet edges of a Moissanite stone. That's because a Moissanite is doubly refractive. It still might be difficult to see that through a jeweler's loupe. But your jeweler or an experienced gemologist could make the separation.
I've seen diamonds go up in value lately. Will the same thing happen to lab-crated diamonds?

Since lab diamonds are relatively new to the jewelry trade, it's premature to predict how the market will respond to these stones over time. We recommend you buy what you love so that no matter how the trends may shift, you'll always have a piece of jewelry that you treasure.
Other Questions?
We are here 24/7 to heck any questions you may have. For quick answers to your questions, please visit our Frequently Asked Questions.
Call +1 (866) 978-4466